behind the scenes
with the kit crew
how the magic is made
the inputs
we work hard to make what we do look simple. in reality, it is anything but…

resources
so much effort goes into creating an elevated off-grid experience. simple utilities that we take for granted every day – such as power and water – are amenities that we work manually to make available on site.
environment
while the high desert is one of the most incredible places on earth, it is also one of the most challenging to endure for long periods of time. sun exposure, high and low temperatures, and wind are just a few of the elemental challenges we regularly face.
maintenance
creating a boutique hotel experience inside canvas tents requires constant effort and maintenance. some units stay up all year, and those must be monitored continually for pest control, wear and tear, and damage. other units stay up only for glamping season, and there is a large labor element for set-up, break-down, moving, and storage.
replacements
all natural materials, including canvas, deteriorate under the strong desert sun. we have invested heavily in quality tents with which to create the KitFox experience. repairs are made annually to keep tents in service. however, about 80% of our fleet must be completely replaced every 2-3 years, and another 20% every 6-8 years.
crew
it takes someone with grit and perseverance to thrive on the KitFox crew. enduring long hours in a challenging environment and the ability to problem solve are just a few of the qualities required of our team. we work hard and we love what we do, but it takes a major commitment to be successful in creating the KitFox experience for our guests..
community
we count ourselves lucky to be a part of such a wonderful local community. it costs more to purchase goods from small-batch artisans than mass market suppliers, but we are passionate about supporting and partnering with other creatives who work hard to produce quality goods and services.
seasonality
our operational period each year is limited by environmental factors, such as the seasons. while we primarily interact with guests in the warmer weather months, we work hard during the off-season to repair and maintain our inventory, while also investing time and resources into continual improvements.
location
it took us years to find and then establish an operation on a piece of land that is both stunningly gorgeous and remote feeling, but also accessible and close to in-town amenities. the "million dollar view" that guests enjoy, is a rare find. we are lucky to have found someone who believes in our mission, making our existence on a pricey lot possible.
preservation
we love being able to operate in a place of such beauty. it is such a special place because of the efforts of a handful of forward thinking individuals. we are committed to making decisions that put preservation before profits. for that reason, our capacity is limited – 10 lodging units for 160 acres – and let the land "rest" in between uses.
value for value
if you read the info above, you can see that so much goes into creating this experience.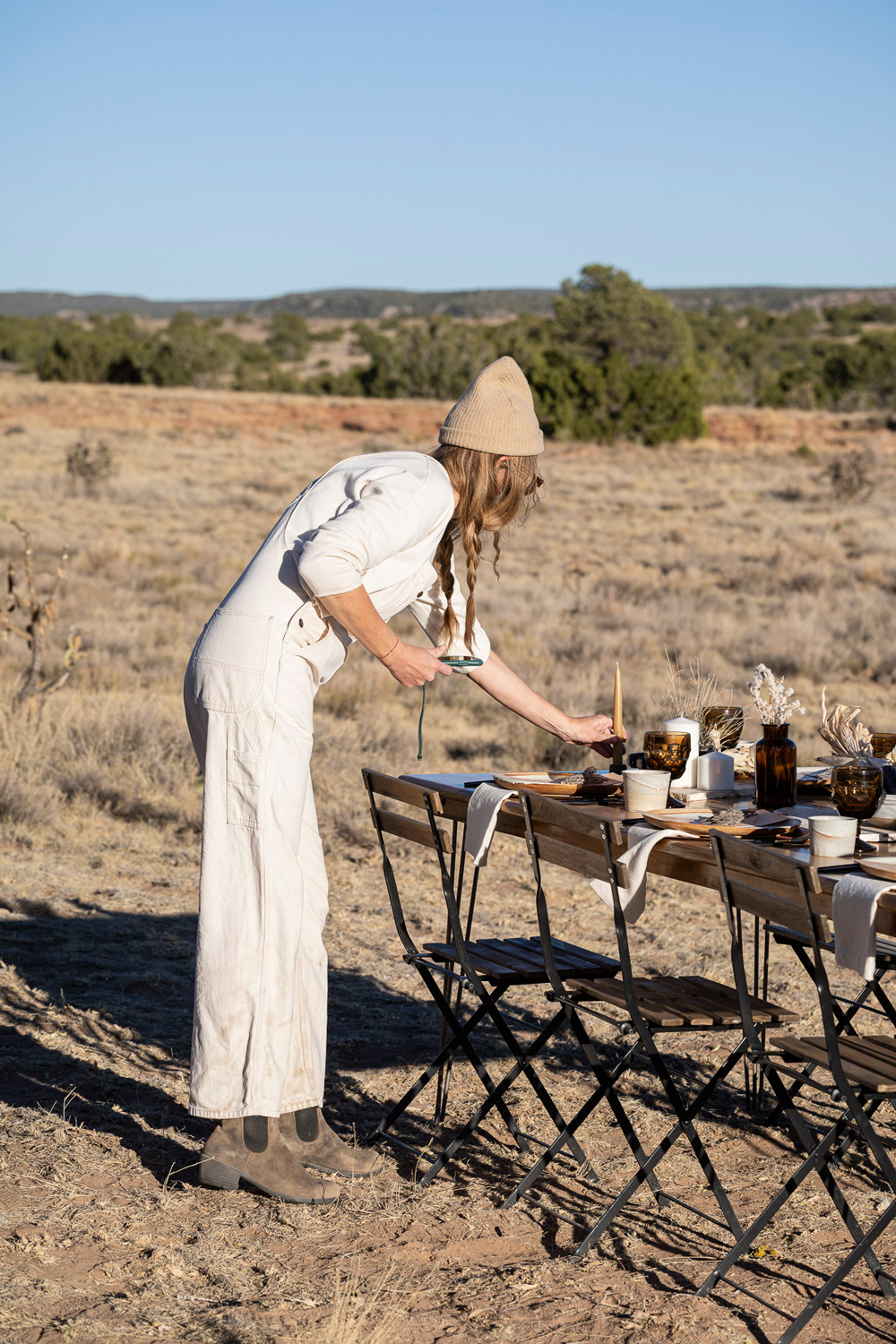 our prices. not about elitism or getting rich.
when you purchase a KitFox experience, you are helping to provide fair wages for a hard-working team, supporting the local artisan community, and investing in our ability to continue to maintain our inventory for future experiences.
just imagine
you are cooking a holiday feast for twenty of your closest friends…
place
outside, in a field. first you've got to find the perfect spot, and then the real work begins.
logistics
you've made your plan, now you've got to bring it to life. grab some helping hands, because you're going to need them.
purveyor
you have a blank canvas, now you can select furnishings, decor, and more… don't forget the rain plan!
production
it's show time! your guests have arrived and your moment is now. there's some unexpected challenges, but you handle with grace and no one is the wiser.
planning
what to serve, how to serve it, managing guests lists and dietary restrictions, and you've only scratched the surface.
aftermath
your guests enjoyed a few hours of bliss and turned in for the evening, but your task is still at hand. clean up, pack up, load out!
rinse. repeat. throw in lodging.
this little exercise gives you a peek into the work we do. no matter how many times we do it, it never is a simple task.
thank you
our dream (of creating something dreamy for you) is made possible by you.
we are eternally grateful for the support of our clients and community.
want more?
if you're interested in the history of KitFox or want to meet some of our local artisans, read on…